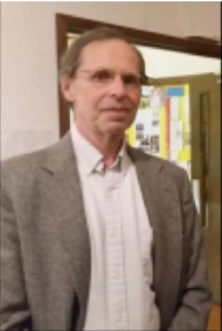 Garden News                  Our New Soils Czar
Even though the weather is cold and the garden is lying dormant, it doesn't mean that plans have not been made toward another successful season in 2018.
One notable improvement for next year is a dedicated effort to organically improve the soil in our beds. We have been lucky to recruit our new "Soils Czar" Allan Pallay to help us out with this project.
I asked Allan a few questions about his interest in soils and composting; here are his thoughts on the matter.
How did you become interested in soil? There are 3 sources of my interest in soil.
1. About a year ago I become aware of the beauty and wonder of the chemical and biological processes that happen in soil.
2. I also became aware that the degradation and loss of top soil is a significant long-term threat to the wellbeing of humanity; a threat that may be greater than climate change.
3. The ability of our garden to continue to provide produce for people in need is dependent on the maintenance of the health of our soil. These factors have prompted me to spend some time studying soil science and to begin applying what I learned to our garden soil.
Why have you focused on composting? After harvesting most types of garden vegetables, soil nutrients are diminished and need to be replenished. Two ways this can be accomplished are by applying chemical fertilizers or by applying compost. Chemical fertilizers help in the short term but can: potentially degrade soil over the long term; be bad for the environment (in a variety of ways); and are expensive.
What about compost? Creating compost involves making a pile of plant residues (the remains of garden plants, fallen leaves, grass clippings, kitchen waste, etc.), in such a way that enables microorganisms to turn the pile into rich soil. Applying this compost soil to the garden soil improves it over the short and the long term. Furthermore, using compost is good for the environment (and is aesthetically pleasing to me) because it recycles what otherwise would be thrown away.
How long have you been volunteering to help in the UUFP garden? I have helped out with the garden from the beginning but my involvement had been minimal until about a year ago when my involvement increased. Thus, I have less long-term hands-on gardening experience than others in the group. Therefore, decisions on the soil management are made collaboratively, with me and the garden Czarinas (Ginny Knight, Kay Price, Christi Dunning and Bev Jensen).
What draws you to helping out? In addition to the reasons given in the first question, I am drawn to help because I get to interact with the lovely and amusing people I mentioned in the last question.
__________________________________________________________________________
Our Gardens
We grew 230 lbs of vegetables this season. That included spinach, cucumbers, green & jalapeno peppers, red, purple, mini red and mini yellow tomatoes, lettuce, snap peas, carrots, radishes, collards and the "ever ready" kale that wouldn't quit. We have our dedicated crew, Kay Price, Bev Jensen, J. Michael and Allan Pallay, also Desiree for a while; maybe she'll find time and come back. Also we have Christi Dunning, Kelsey Stanton and myself. We each gave our time and our various talents contributing to a successful year.
There have been some improvements to the garden. Christi made a very cool compost bin that spins. Jay, my guy, made 2 new raised bed surrounds from galvanized roofing and cedar boards. Allan is interested in the soil and has been reading, learning about it and providing useful information to help our garden grow and flourish.
The garden has been put to bed. The garlic is planted and doing its fall and winter thing underground. The beds are covered with soil food which is a mixture of horse manure mixed with straw and then further covered with chopped up leaves.
A garden Quote by David Hobson: "I grow plants for many reasons; to please my eye or to please my soul, to challenge my patience, for novelty or for nostalgia, but mostly for the joy in seeing them grow."
This concludes the garden news for this season. To be continued next spring.
Ginny
__________________
UUFP Gardens
There is good news to report in that the garden is doing very well. We've had a nice harvest of kale, spinach and, as you can see, carrots. The cucumber plants are massive with many flowers that will soon be cucumbers. The tomato and pepper plants are coming along beautifully. The Wednesday garden crew has been spraying the plants with neem oil which seems to be working well in keeping the bad bugs away and Max my dog is enjoying his time at the UUFP garden. He was a good boy sitting as he was asked to do for the picture Kelsey took. There was a problem with flea beetles and little green worms on the collard greens. We've pulled the worms off and sifted some diatomaceous earth over the collards. They are looking healthier. We have a very happy garden and gardeners this year. Wishing all who have gardens the same.~Ginny
__________________
Garden Corner
Our Garden gets some new home grown equipment!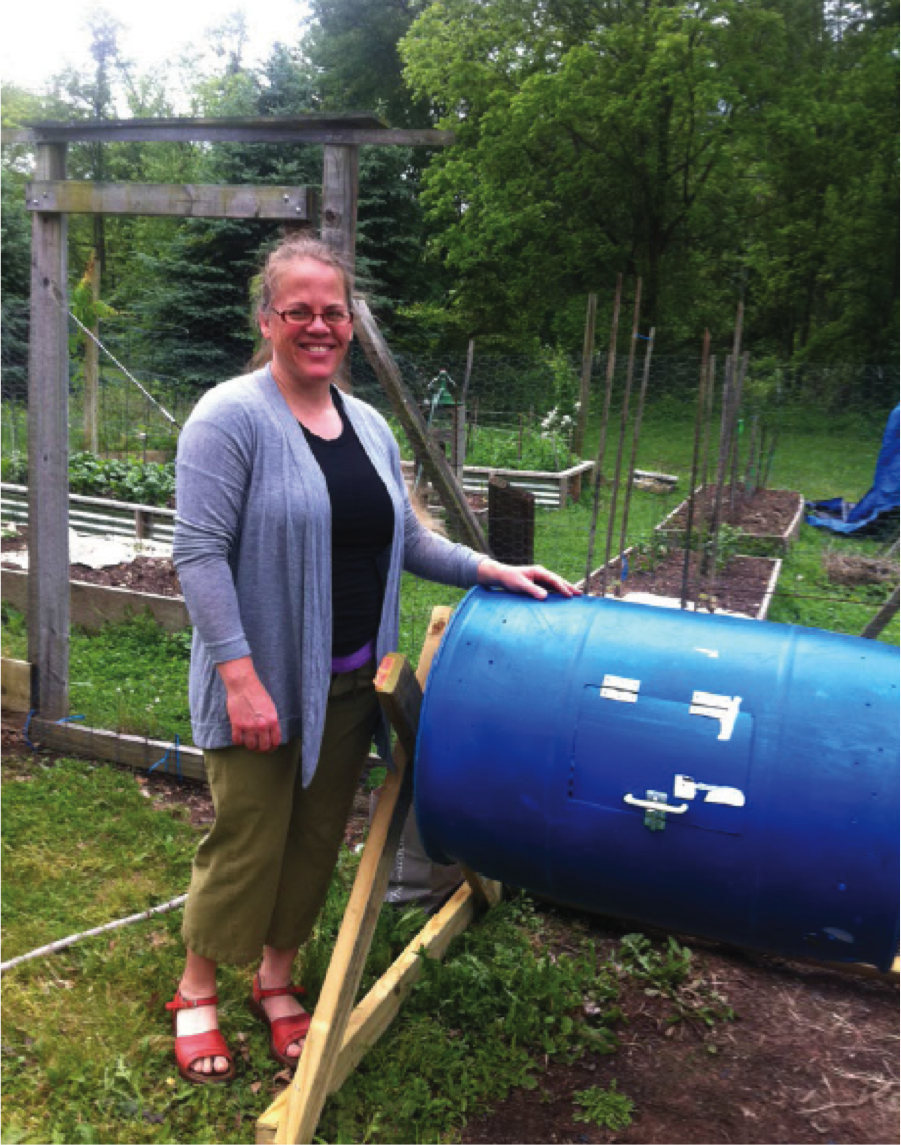 Our resident inventor and builder, Christi Dunning, designed and built the compost tumbler you see pictured here, for our UUFP Garden. Made from repurposed parts, the tumbler is easy to use and very valuable to our agricultural efforts.
Almost any organic refuse can be added to the contents. A partial list would include discarded fruit, vegetable and flower material, egg shells, and coffee grounds. Feel free to bring those items to the Garden, put them in the tumbler, and give it a few turns. Also, even in you aren't making any additions to the contents, please turn the wheel a few times when you are in the parking lot, because that will help the composting process.               THANK YOU CHRISTI!          -Lisa J.
___________________
UUFP Gardens
The vegetable garden looks beautiful. For our spring planting we're growing snap peas, carrots, arugula, spinach, kale, collars and radishes. Many of the spring planted vegetables are ready to harvest and they look very nutritious and delicious. Our volunteers do a great job. We were admiring the dark dirt as we were planting the summer vegetables on Tuesday May 23rd . We have many kinds of tomatoes. Yellow and red cherry tomatoes, Beefsteak and purple tomatoes along with basil and African tall marigolds growing from seed. We've also planted sweet summer red peppers and jalapeno peppers. We're going to do our best in fighting off the squash bugs in the hopes that we have a plentiful harvest of cucumbers this year. Last year's cucumber crop was decimated by these voracious bugs. Last but not least there will be some arugula available. Any donation received for the arugula will be used to fund the garden.
Ginny
________________________
Garden Needs
We're looking for a few more volunteers for the garden. Ideally we need a garden volunteer every other day of the week because a lot of damage can be done to a garden vegetable in a couple of days. Prior to harvest while the vegetables are growing a garden volunteer has the following duties: • Check for damage from bug, animal, fungus, or disease • Attempt to treat for it, but if you don't know what to do, take a photo and email it to Ginny • Check the moisture level of the garden soil • Weeding
Also needed: • Volunteers to bring the harvest to the Pottstown Cluster • Empty coffee cans for pest control
Please let Ginny know if you can help out at all.         Everyone is invited and welcome to participate.
-Ginny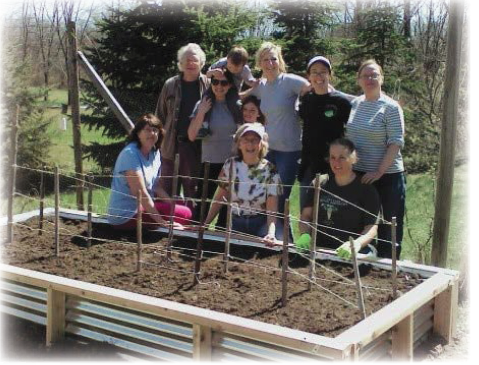 ___________________________________________________
Spring Panting!!
Our beautiful garden will see its Spring Planning on Sunday April 9th at 12:30 PM after the morning service.  All are invited and welcome to participate. Please contact me with any questions.
-Ginny
_____________________________________________________________________________
 Our Gardens
"Seek to understand what draws you to the garden. You may discover greater rewards than the blue ribbons awarded for the biggest pumpkin or the best preserves. You may find the garden becomes a teacher and crop "failures" become lessons learned. However big or small your garden is, if you allow nature to touch your spirit, gardening will bring returns of peace, satisfaction, and well-being for as long as you continue to wander the garden path." – Norman H. Hansen, The Worth of Gardening 
Not much news to share right now but soon the garden meetings will begin. We must plan the spring and summer crop, build the rest of the beds, feed the soil and prepare our defense against the garden predators. March will be here before we know it and there will l be so much to do all at once. I Can't wait!
Ginny
_________________________________________________________________________
Our Gardens – November 2016
The latest news for the UUFP Food Bank Garden is the new beds. You may remember that Wegman's gave us $250.00 dollars to redo the beds and Pete, owner of Durango's Restaurant in Boyertown will give us more funds if needed to finish the beds. Jay, my guy, looked around on the Internet and found an idea that may prove to be the least expensive idea yet. The cost is somewhere between $50 and $60 dollars per bed. This bed is made of corrugated metal roofing panels and cedar board. Jon and Jay made one. Check it out, I think you may find it interesting. We're going to make 2 more before winter sets in and in the spring we'll make the other three. This means a work party. I bet everyone is so excited about that. Not!!! No worries, hard work is good for you. Who said that?
Other news is that Linda Kozitzki had a great idea. "A Vegetable Garden
cookbook." It will contain recipes from a typical garden crop and will be for sale. The proceeds will go to fund the garden. When this is approved, recipes will be sought. If you have one, we could use it but first we need Board approval.
Happy Gardening! Ginny
_____________________________________________________________________________
Garden Corner August 2016
Joan Mitchell donated a lavender plant to the garden. I looked it up on the internet. So here's what I found out. The history: This aromatic herb adorned the sacrificial altars of early Egyptians, Greeks and Romans. Lavender was derived from the Latin verb lavere, meaning "to wash".
Lavender offers many uses in the home, from scenting linens, to giving fleas the brush-off, to seasoning foods. There are 28 different species of lavender and many separate varieties among these. The hardiest and sweetest smelling type is Lavandula vera, better known as "English" or "true" lavender. It's hard to grow from seed; better to start from a nursery plant. When mak­ing plant divisions, dig up 3-year-old plants and tear each root cluster in two. Lavender gets too woody if left undivided for too long. It likes well drained, limed, sandy (or even rocky ) soil along with plenty of sun with wind protection. When drying flowers, pick buds before they bloom and dry them in the shade 90 to 100 degrees Fahrenheit then strip the flowers from the stems and store the blooms in airtight containers for use in sachets, potpourri, herbal baths, herb jellies and etc.
-Ginny
_______________________________________________________________
Garden Corner June 2016 
 We received a check from Wegmans for $250. We'll be using this money to fix the beds that are falling apart. To date we have onions, carrots, radishes, broccoli, cauliflower and cabbage planted and growing well. Lorien Duske's Girl Scout troop (#41976) came with dirt and compost to plant the potatoes in one of the cages. The potatoes were donated by Lyn Bassett. The caging material was donated by Laurie Young and Dave Donohue. Kay and Bev have planted heirloom sweet potatoes that Kay got from her Aunt. This sweet potato line has been going for almost 100 years. Christi Dunning got us 50 packages of seeds from Seeds of Change which is where we got the tomatoes, cucumbers, peppers and zucchini we've got growing under our growing lights at home. Joan Mitchell has donated Rosemary, Lemon Balm, Basil, Oregano and Thyme to the garden. We were given the compost from our UUFP neighbor Rich up the street at Becca's Birds who sells chicken and duck eggs.  Quite a few others have donated their time. I'd say the UUFP Vegetable Garden is doing well thanks to the combined effort of our UUFP community. June 4th  at 11am is the next planting date. We could use marigolds, petunias, peppermint and more of any herb or flower that helps a vegetable garden.
-Ginny
________________________________________________________________                       
Garden Corner     
The Summer planting for the Garden Group is scheduled for Saturday, June 4th. Talk to  Ginny if you'd like to help!
________________________________________________________________
Garden Corner Update April 2016                   It's that time again. Spring is almost here and our first planting is on April 9th.
There are a few things we need. Straw…not to be confused with hay. We need the straw for the potato cages. We could use some onion sets and a couple of trellises. Flowers like marigolds and petunias would be great for the garden and we could also use some herbs.
We don't have to go far for our compost this year. Our UUFP neighbor a few houses up the street on South Keim is giving us horse manure. It's very good stuff. Well aged. He sells free range chicken and duck eggs. The name of his place is called "Becca's Birds." I've put a few of his business cards on the Garden Board.                   Ginny
_____________________________________________________________________
Garden Corner Update February 2016              Looking for UUFP Garden Volunteers
This year we're starting out on March 1st with a cold cover on one of the beds. We'll be planting tomatoes in that bed. The cold cover allows gardening to begin sooner when it's still below freezing temperatures.  Kay and Bev work in the garden every Wednesday for 2 to 3 hours. Christy and Judith work, plan and contribute a lot.  A few others volunteer intermittently and I'm there many Sundays before service.  We could use more help in the garden.  Everybody needs food. It's just a basic need and the world doesn't have enough of it.  If ever there was a good cause, it's providing food.  Not a McDonald's hamburger from the dollar menu that you can still eat a year from now but good nutritious food.  We're a tiny group who is part of a big group or a movement "FOOD FOR ALL".  Do you have an hour or so each month to help for a cause? It's not futile, people are starving in this world and it's up those of us who have plenty to recognize this problem and help secure a change.
There is power in numbers.           Ginny
___________________________________________________________________________
UUFP Gardens Update January 2016
As you may have noticed, our gardens have been put to rest for the year. We had a productive year-the first year that we went it alone without the aid of Triskeles.
Here are the totals for the 2015 harvest:
arugula: 5.33 lb.          Ÿ    lettuce: 3.32 lb        scallions: 1.26 lb.    Ÿ     spinach: 9 lb.
             kale: 40.73 lb.                onions: 2.9 lb.         cabbage: 15 lb.            Ÿcucumber: 46.74 lb.
    collards: 1.13 lb. Ÿ           peppers: 22 lb.        tomatoes: 36 lb.           carrots: 28 lb.
   Total weight of produce donated to the Pottstown Cluster: 205 lbs.
If you are interested in helping out with our fellowship gardens, you are welcome to attend our next planning meeting on Saturday, January 9th at 1:00 PM  

_____________________________________________________________________________
Fall Harvest October 23, 2015
Garden work is winding down as the weather gets colder. Last weekend's frost halted the growth of the bell peppers, tomatoes, butternut squash and sweet potatoes. The kale is still healthy and producing. The collards are just coming into full growth as they were planted by seed in late summer.
Each year we try new things and learn more about organic gardening. This year we tried out purple bell peppers. They thrived and were delicious. Also, we planted sweet potatoes from a 150 year old variety. Not only did we plant the slips but also learned how to propagate new plants so we can continue this heirloom variety in the future.
Look for information about our next garden committee meeting. If you wish to join in, please contact our Gardens Committee chair, Ginny Knight.
_____________________________________________________________________________
Our Gardens Update July 2015
The garden beds are doing well. Beginning at the entrance left side bed #1 had lettuce producing 6 lbs of both red and green leaf let-tuce. Carrots and tomatoes are still growing in that bed. Bed 2 is pleasantly aromatic with on-ions growing in it. Bed 3 has Kale with 8lbs har-vested to date. Bed 4 had spinach producing 10lbs. Three pepper plants and one tomato plant have replaced the spinach. Bed 5 had broccoli and cauliflower; it got too hot and so they went to seed. We've got cucumbers and squash plants growing in there now. Bed six had cabbage. We had 7 or 8 heads amounting to 9lbs. I am happy to report we have an abundant garden.
Ginny
Volunteers grow non GMO organic vegetables from April to December and donate the harvest to the Pottstown Cluster of Religious Organizations.  Our mission is to promote, support and advocate the use of heirloom seeds and non GMO organic food for all.  Volunteers are welcome. Please email gardens@uupottstown.org.
Update from May 24, 2015:  Everything is growing!  Pictured here are the onions.