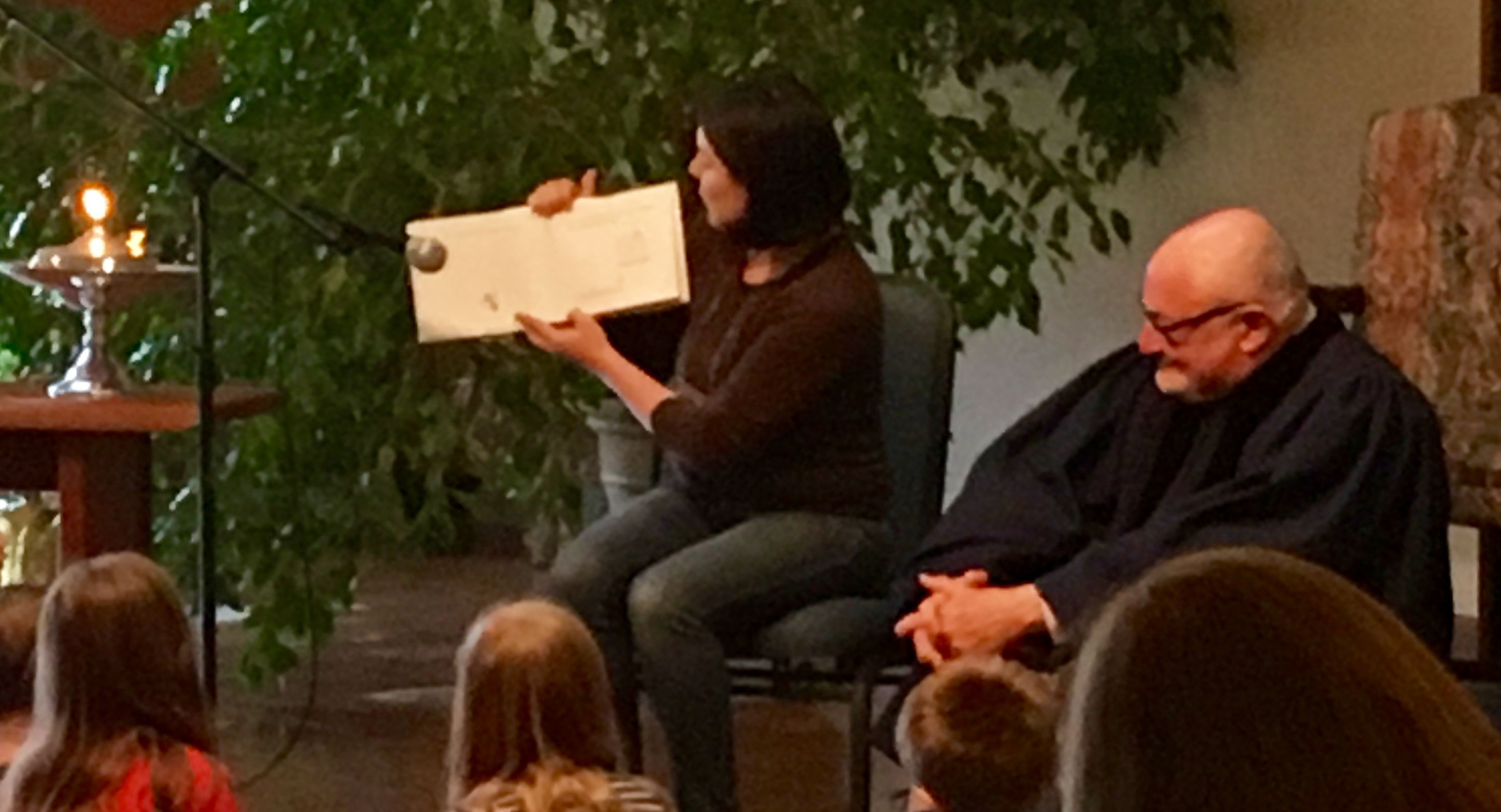 Unitarian Universalist Fellowship of Pottstown Religious Education
Elementary Class
Grades K – 5
2017 – 2018
This year participants in our Elementary Religious Education class will embark on a pilgrimage of faith, exploring how Unitarian Universalism translates into life choices and everyday actions. During the first half of the year teachers will use the Unitarian Universalist Association's Tapestry of Faith Curriculum entitled Faithful Journeys.  In each session, they will hear historic or contemporary examples of Unitarian Universalist faith in action. Stories about real people model how participants can activate their own personal agency – their capacity to act faithfully as Unitarian Universalists – in their own lives, and children have regular opportunities to share and affirm their own stories of faithful action. Through sessions structured around the Unitarian Universalist Principles.
Faithful Journeys demonstrates that our Principles are not a dogma, but a credo that individuals can affirm with many kinds of action. Over the course of the program, children discover a unity of faith in the many different ways Unitarian Universalists, including themselves, can act on our beliefs.
For the second half of the year the children will engage in the Tapestry of Faith curriculum entitled Moral Tales By the Rev. Alice Anacheka-Nasemann and Elisa Davy Pearmain
Every day our children go forth into a complex world where they may be faced with difficult decisions and situations. Moral Tales provides children with spiritual and ethical tools to make choices and take actions that reflect their Unitarian Universalist beliefs and values. The stories in Moral Tales draw from all our UU Sources to activate and inform the children's learning how to make moral choices.
Each session of this program includes rituals: sharing opening words, a chalice-lighting, centering in silence before hearing a story, and singing. Most young children love ritual, and these spiritual activities form an important element of the program.
Our Religious Education classes will be offered on Sunday mornings from 10:30 to 11:30, September through June. Click on the RE Schedule under Religious Education for class topics or on Sunday on the Calendar of Events on our website for class dates.
————— A review from an RE attendee:—————
The following is about the UUFP's Religious Education, also known as RE. RE is a session for children or older kids during the service where the attendants learn about a certain subject through activities and stories. This is like school, but it is only an hour in duration and much, much more free. This makes the learning aspect fun, while the students learn without realizing it, or having it feel boring. It's like big kid kindergarten. The only downside is that some kids don't come every day. All in all, RE is fun, free, interesting and a great alternative to sitting through service. They do lessons of many shapes and sizes, from life lessons to beliefs of different faiths. I can't exactly name a favorite lesson, but you name a faith or bit of advice, you're sure to hear it somewhere in RE. The teachers answer all your questions, put up with some goofiness (I'd die if I couldn't make a couple puns here and there), and don't mind going off track to hear a story. Or two. Or fifteen. All this makes RE a fun experience for children looking to avoid sitting through an hour of grownups *gulp* talking. No offense, grownups.        -Ryan D. (age 12)